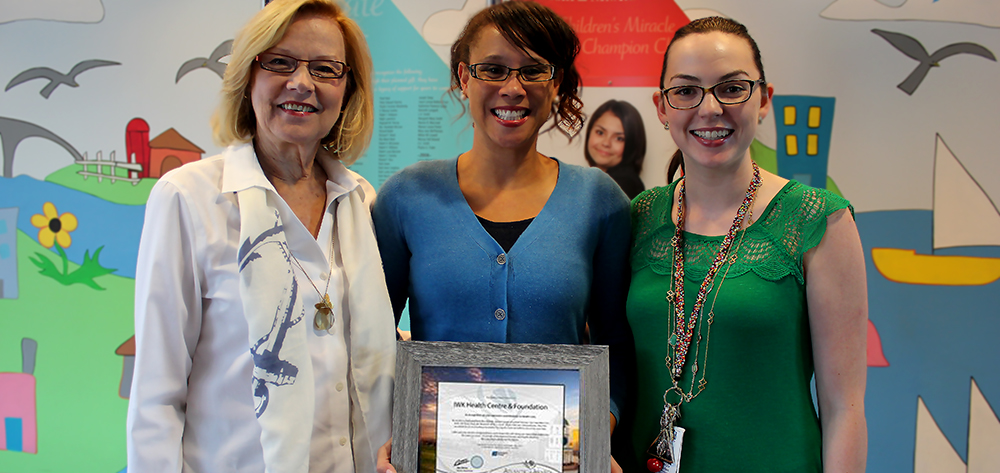 The Haliwards 2015 presented by Investors Group Halifax, is a project designed to recognize incredible people from across Nova Scotia.  The project has been running annually since 2010 and is part of the core of the Atlantic Award Group. An award presented as part of this project is referred to as a 'Haliward'.
The IWK Health Centre is the Maritime region's leading health care and research centre dedicated to the well-being of women, children, youth and families. Last year, there were almost 300,000 patient visits made to the IWK, which included 240,000 ambulatory (outpatient) clinic visits, 27,000 emergency room visits, 6,000 day surgery visits and 15,000 inpatient visits. The IWK is global leader in research and knowledge sharing, and a partner in educating the next generation of health professionals.
At the IWK Foundation, donors, patients and families are at the heart of everything they do. It is their mission at the Foundation to raise money to support the excellence of this amazing space. Last year alone, donors contributed over $19.68 million to the IWK. Donors generosity has a tremendous impact on the thousands of patients cared for at the IWK each year. From purchasing new patient monitors that support patient visits to the emergency department, to funding a research study to discover new treatments for acute myeloid leukemia in children, the impact that donations have on patient care is incredible.
Project Director, Alex Maine said:
"The IWK is a well respected establishment that provides key health services for those in Atlantic Canada. I think it's safe to say that everyone knows someone who has a loved one who has passed through their doors at some point or another. This award is overdue. I'm glad we were able to make this happen."
In a statement to the AAG last week, Investors Group said:
"On Behalf of the Investors Group Halifax Office, I would like to Congratulate the IWK & Foundation on receiving a well-deserved Haliward. You have impacted countless families in the community during what can often be a very difficult time. Many of our clients' and consultants' families have so many stories of support from your organization as do many Maritmers. It is an honor to sponsor an award that recognizes those doing so much good. Thank you for making a difference and being people who care."
More information can be found at http://www.iwk.nshealth.ca/ & http://iwkfoundation.org/