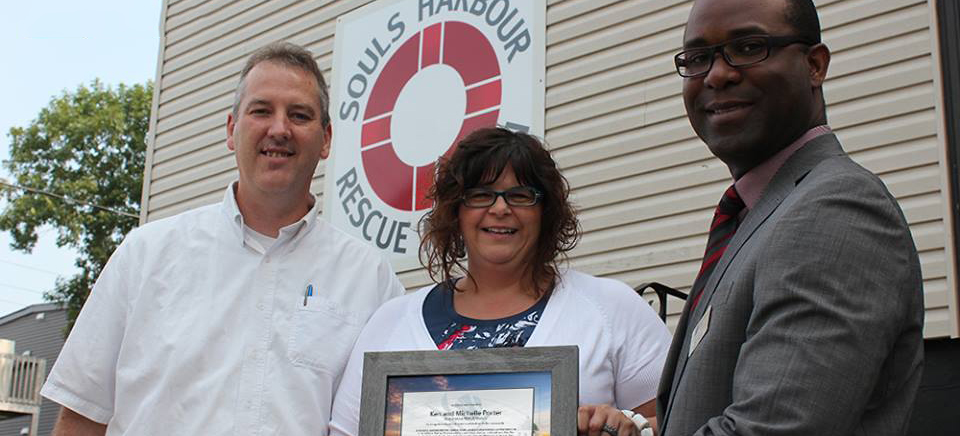 The Haliwards 2015 presented by Investors Group Halifax, is a project designed to recognize incredible people from across Nova Scotia.  The project has been running annually since 2010 and is part of the core of the Atlantic Award Group. An award presented as part of this project is referred to as a 'Haliward'.
In 2000, Ken & Michelle Porter founded Souls Harbour Rescue Mission in Regina, Saskatchewan. It became the largest service provider for the homeless in the province, feeding over 100,000 meals each year, and sleeping 90 people each night.
10-years later, they once again responded to the call. They sold all their possessions, packed a few mementos into the back of their car, and drove 4000 km across Canada, strangers in their new home of Halifax.
9 months later, Souls Harbour Rescue Mission was born. A facility offering food and physical, emotional and religious support to those that truly need it, without discriminating.
Project Director, Alex Maine attended the presentation on September 2nd and provided this statement:
"It was my pleasure to meet Ken & Michelle last week at Souls Harbour Rescue Mission. I was able to experience first-hand the work that they do and the kind of people who they're helping. Seeing this in person made me appreciate their efforts even more than I did reading about it. Congratulations. This award is very much deserved."
In a statement to AAG last week, Investors Group said:
"On behalf of the Investors Group Halifax office, I would like to Congratulate Pastor Ken and Michelle Porter on being one of this year's recipients of a Haliward.  You and your volunteers are a beacon in the community and we at the Halifax office are proud to be sponsors of an award that recognizes those doing so much good in the community.  Thank you for making a difference and being people who care."
To learn more about Ken & Michelle and the Souls Harbour Rescue Mission visit their website: http://www.shrm.ca/