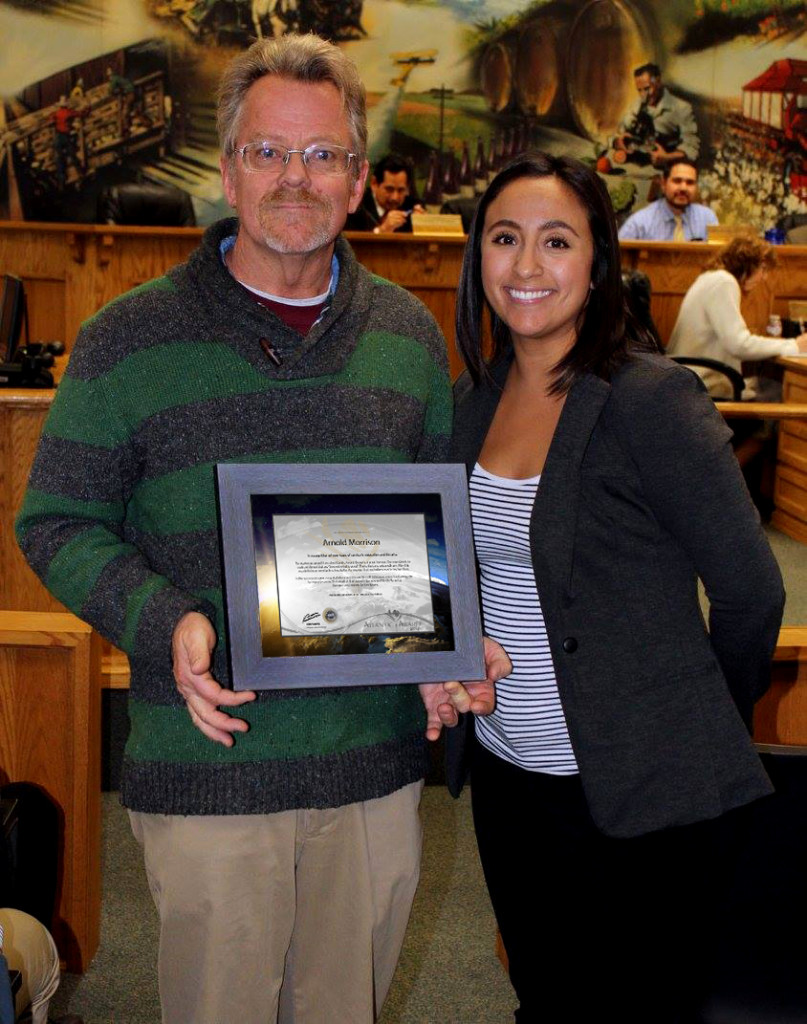 "An award in recognition of your years of service in education and the arts", reads the award presented in Delano, California tonight during the Delano City Council meeting.
If you can judge a mans wealth, not by how much money they have, but by the number of friends they have, Arnold Morrison is one of the wealthiest people we know.
Whether you know him as Arnold, Arny, Mr Morrison or even 'Mr Doofus', you'll know that he is a man who gives everything he has to give. A teacher to the masses, a mentor to many, a musical inspiration to tens of thousands and a dedicated volunteer in a community that he describes as "Honest unmatched hospitality".
When we expanded our search, we focused our nomination marketing through schools and universities throughout the US. We knew that the younger generations had been the most influenced by our awards in the past and we were confident that their creativity would lead to some extraordinary awards. Naturally they didn't disappoint.
Selfless. Dedicated. Enthusiastic. Sincere. These are just a few of the words that appeared in the lengthy nomination telling us about a man of impeccable character. A man who volunteered in any capacity he could. A man who could always be found at a community event.
Arnold Morrison has been living in Delano for over thirty years. He is a Delano Union Elementary School District music teacher and also sits on the Delano Joint Union High School District Board of Trustees. Putting aside his official responsibilities he is well know in the community for giving his time as the 'unofficial' community photographer amongst many other activities. Locally and internationally he is also know as Mr Doofus, the provider and curator of musical arrangements available online for fans of the music from the Final Fantasy series.
We didn't have to search far to know that this nomination was genuine. In fact, we'd known about Arnold for many years and making the decision to present this award took no toll on us at all.
The nomination referred us to many of his previous awards and achievements but one that stood out to us was the notes from a nomination for a Life Changer of the year award in 2013. It read:
Children often first discover their passion for music through his guidance and then continue to pursue music into college and beyond. Because of his loyalty to his schools, he is now currently teaching the children and even grandchildren of his former students. In addition to his full-time teaching job at the elementary level, he has been a tremendous collaborator with the music teachers at all of Delano's 8 elementary schools, 3 middle schools, and 3 high schools.
At every Delano High School band event or competition, you will find Arny Morrison videotaping the show. Mr. Morrison lives his life to serve the community of others. The directions of countless lives have been forever changed because of this man who taught them music as babes and continued to support them and guide them. He has given many students the opportunity to rise to a future of endless possibilities.
In a statement this morning, Project Director, Alex Maine said that he was thrilled that this presentation was taking place.
"I know enough about Arnold to tell you that he is everything that the nomination says he is. Those who know him will surely back every word that we say, and those that don't know him personally truly can't appreciate how extraordinary he is."
"I can't help but admire not only his dedication to his family, his job and to his students, but his taste in music as well. When we decided to select this nomination for an award it led us to new avenues and ultimately inspired us to press forward with a very special award we'll be presenting in Japan in 2016. For that I'm thankful."
"I'd like to thank the Delano City Council and the office of Assembly-member Rudy Salas, especially Airica Belis, Senior Field Representative for assisting with this presentation. I know that they felt as strongly about this award as we did"
"Be proud of everything you've accomplished Mr Morrison, and continue to inspire."
If you'd like to nominate someone extraordinary in your life. You can do so by submitting a nomination here on our website. http://atlanticaward.com/nominate