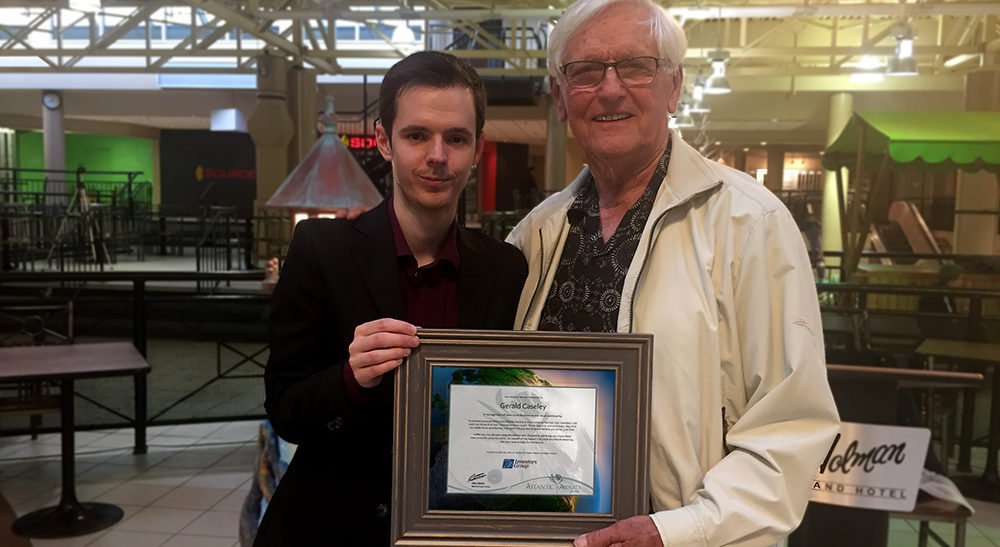 Meet Gerald Caseley, an eighty-one year old man from Summerside, Prince Edward Island. Mr. Caseley or better known to the kids in his community as 'Grandpa Caseley', was surprised with an Atlantic Award on Saturday, May 28th in recognition of his contributions to the local community.
Gerald single-handedly produced 16 lighthouse models for a project known as 'Lighthouse 2016'. The wooden models consist of over 120 pieces and were constructed in a little over three weeks. The models were then primed and provided to island artists to decorate for a public display this Summer at the Confederation Court Mall in downtown Charlottetown. The lighthouses will eventually be auctioned off to raise funds for various island causes.
This award not only recognizes Gerald for his contributions to the Lighthouse 2016 project, but his efforts on numerous other community endeavors. Project Director, Alex Maine made the presentation in front of a crowd of several hundred guests at the Lighthouse 2016 reveal. In his speech, he said:
"Gerald is a very giving individual. The Lighthouse 2016 project alone is a massive undertaking. You have no idea." – "When I reach Gerald's age I'll be pushing up daisies. I can't imagine I'd be doing anything like that. I guess we all need to be a little more like Gerald." – "He's a remarkable man, stubborn, but extraordinary all the same."
Many of his family including his wife and two of his daughters were present at reveal and were all very moved by this unexpected award.
This award was presented as part of the Atlantic Awards in Canada presented by our good friends at Investors Group. The AAG and Investors Group of Atlantic Canada would like to offer their sincerest congratulations for this prestigious award.