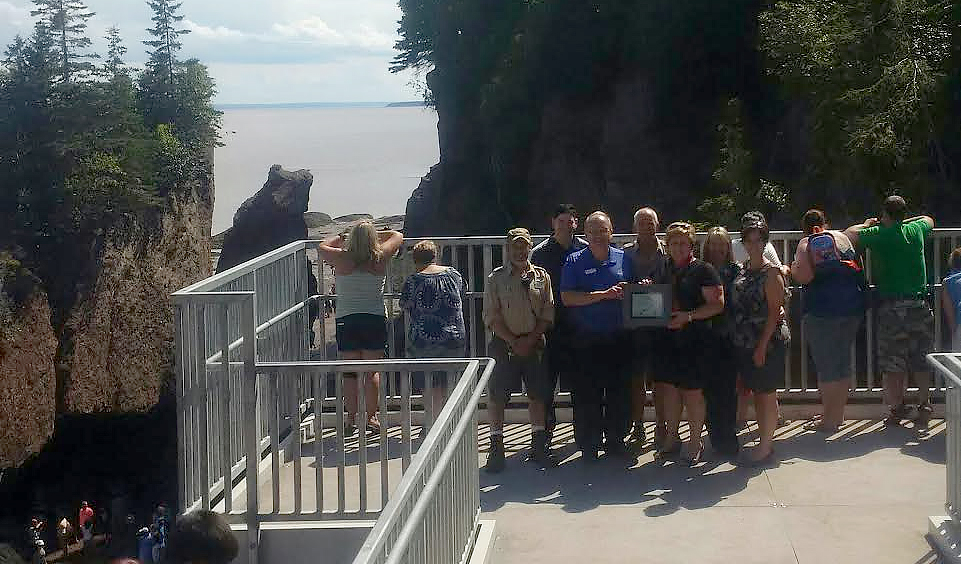 One of the difficulties of being an award without boundaries, is that you cannot consider possible recipients using typical review methods. All of our award recipients are very different, but that's part of who we are. We've presented awards to individuals, groups and organisations. Even service animals.
Now we take the step to recognize not just people but the place they represent. The Atlantic Award Group is delighted to announce the presentation of an award to Hopewell Rocks of New Brunswick as part of our awards program in Atlantic Canada. Sponsored by our good friends at Investors Group.
Hopewell Rocks is an extraordinary natural landmark which has been carefully maintained and curated by a dedicated team of professionals. From the administration, to the tour guides. You can certainly feel their passion for the region.
The award presentation was made just a few days ago to the staff of Hopewell rocks and was attended by local officials.
Alaina Lockhart, Member of Parliament for Fundy Royal offers congratulations to Hopewell Rocks being recognized as an extraordinary natural landmark.
"I was thrilled to hear that their team of 90 employees hosted a record breaking number of guests on New Brunswick Day. More than 6300 visitors came to take a walk on the bottom of the Bay. Tourism is a huge economic driver in Fundy Royal."
Noël Hamann, Hopewell Rocks Property Manager said it was a great honour to be recognized.
"‎The success of the Hopewell Rocks is primarily due to team work. The Atlantic Award is a testament to the passion and commitment of The Hopewell Rocks Team. We accept the Award with pride"