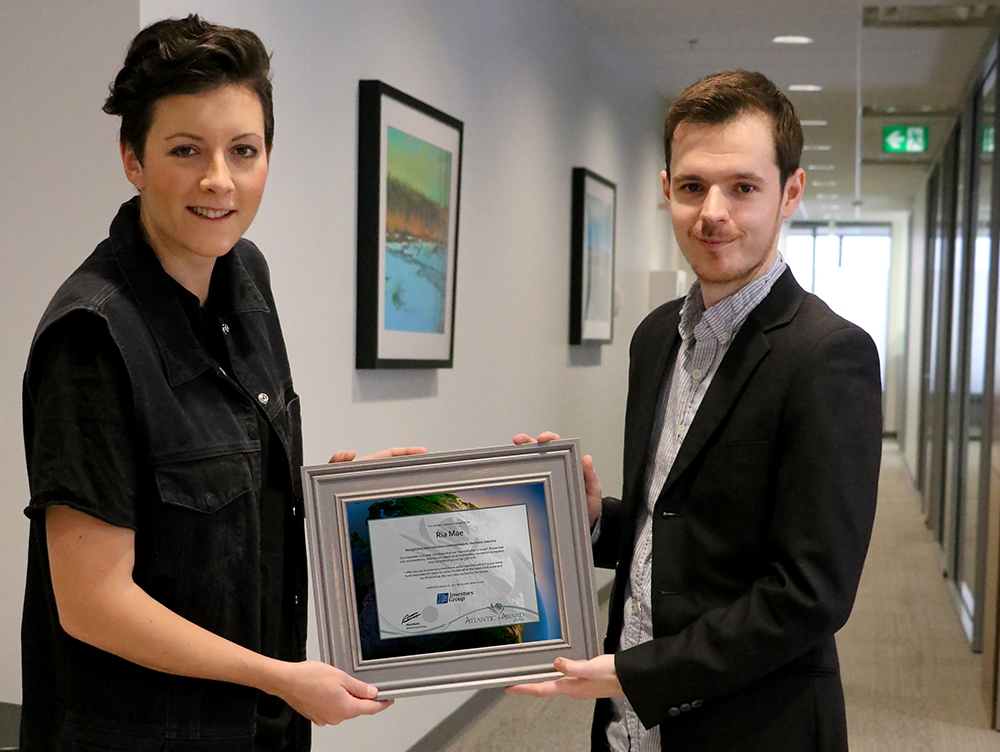 We are delighted to announce the presentation of an Atlantic Award to Ria Mae — Hailing from Halifax, Nova Scotia, Ria Mae (born Ria MacNutt) is a singer-songwriter who infuses pop and folk into her work. She began in her bedroom teaching herself how to play the guitar. Among her influences, Ria has cited The Beatles, Tracy Chapman, Bad Religion, and Green Day. It was a private hobby though; Ria suffered from stage fright until she was 18. Before going full-time with music, Ria worked in construction management and began playing in bars and small clubs, creating a slow growing fan base in the Halifax area.
Her first single, Between the Bad, was released in 2009. Two years later, Mae was chosen as a finalist in the Mountain Stage NewSong Contest, giving herself some major exposure in the Canadian music scene. In 2011, Mae self-released her debut album Under Your Skin, which won an East Coast Music Award. The song entitled Under Your Skin was listed as a finalist in Canadian Music Week's Radio Star National Talent Search. In 2013, her single, Leaving Today, was nominated for Song of the Year at the East Coast Music Awards.
In 2015, Ria's next album, which was self-titled, was released to positive reviews. Her lead single, Clothes Off, was critically acclaimed and its music video has been viewed on YouTube over 2.3 million times. The song was nominated for Single of the Year at the 2016 Juno Awards alongside fellow Canadian artists Drake, Justin Bieber, and The Weekend. It would be followed by Gold, Ooh Love, and Thoughts On Fire. That same year, Mae was signed by Sony Music Records Canada.
Since then, she has performed at the CMJ Music Marathon in New York City and Folk Alliance International in Memphis, Tennessee, being able to share the stage with noted folk artists Family Of The Year and Elle King. Earlier this year, she toured in Europe opening for Tegan and Sara.
The presentation was made at the office of Investors Group at Halifax Place. Reflecting on the presentation, Alex Maine Project Director for the Atlantic Award Group, said the nomination was very moving and was the reason for the presentation.
"I was delighted to travel to Nova Scotia yesterday to meet Ria and make this presentation. We had a nice discussion about our awards and their unique nature and she seemed extremely touched by the fact that this award came from the fans. The nomination received spoke of troubling times and said that Ria as a musician and a role-model, had allowed her to push through a very dark time in their life."
Regional Director of Investors Group, Anjali Jensen said in a statement:
"Investors Group is once again honored to be part of supporting the Atlantic Awards, showing appreciation to outstanding and unique individuals and organizations in the communities we serve. Ria Mae's music has inspired and helped many individuals feel part of something bigger. Any artist who supports a message of understanding and tolerance is something we are proud to recognize. We wish her many more successes in her future."
In an email to us this morning, Ria said:
I feel very humbled by this award. I understand that I follow an incredible group of people who have received Atlantic Awards and it inspires me to know that I've inspired others and represented others, If even in small ways.
The Atlantic Award Group would once again like to thank it's partners at Investors Group for their continued support.