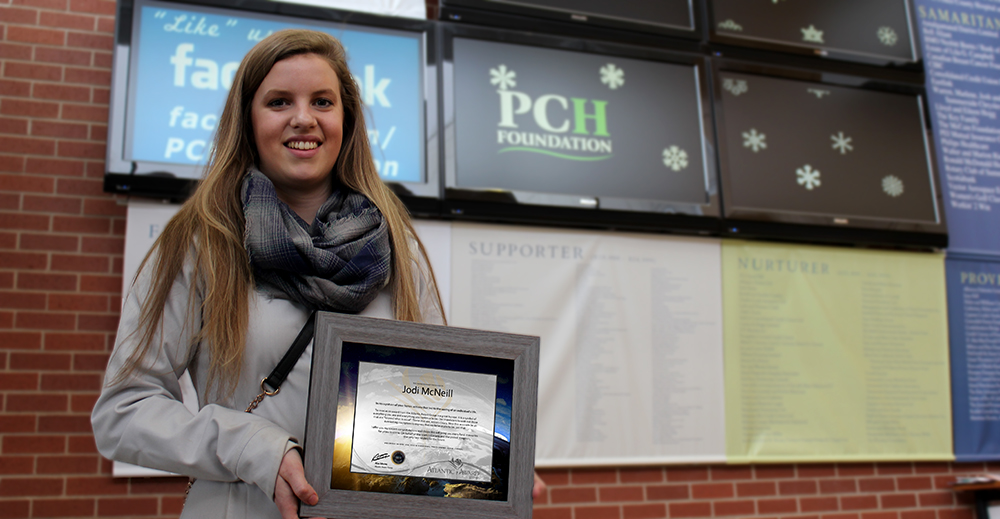 When Jodi McNeill of Prince Edward Island, Canada was 12 years old, she took a baby-sitting course for Girl Scouts. She was in the sixth grade at the time and like most of those attending, Jodi thought she would learn the basics of child care and nurturing. There would be lessons on feeding, bathing and the proper way to care for children of all ages.
The instructors thought it was important for the students to learn basic CPR. CPR stands for cardiopulmonary resuscitation. It is an emergency lifesaving procedure that is done when someone's breathing or heartbeat has stopped. CPR did not seem to make much sense to the scouts at the time. They were there to learn how to baby-sit, not to save lives. At the time, she never thought she would need it. What Jodi learned in that afternoon was something that she filed away in her mind -and for good reason.
Jodi had always been a bit of a tomboy. On many occasions during her upbringing, her parents had to take her to Prince County Hospital for injuries. Jodi always remembered the way she was treated with care and compassion. It only made sense that when she became older, she would volunteer.
Fast forward to a 17-year-old who is busy with her senior years of high school…
Jodi had always admired her father as he was a Fireman. Firemen were people that saved lives and helped people every day. Their unselfish manner and compassion were something to be admired. Jodi loved seeing that character in her family, so she became a volunteer at Prince County Hospital. She knew she was young, but could make some kind of a difference.
One afternoon while volunteering, Jodi decided to get some lunch at the local Subway. There were not many people in the restaurant at the time and the events to follow, would have nothing smaller than an everlasting impact on Jodi.
"While waiting in line for my food, a man and his wife were standing behind me with another man just after them. Suddenly, the a woman starting yelling for help. As soon as I turned around and noticed the man's position and his body language, I knew what was taking place… A heart attack."
Jodi knew she had to do something. Without delay, she dropped her belongings and began performing CPR. It just clicked in Jodi's mind those lessons from when she was 12. She performed the hand motions for over ten minutes. By that time, the emergency services arrived. Jodi didn't have time to think. In the short time it took her to wait in line at that counter, a young lady became a hero.
Project Director, Alex Maine said that after hearing this story it made him realize the importance of basic medical training.
"I think this situation should be a lesson to us all. Many of us have never taken any medical training unless it's been required as part of a work placement, but after hearing a story like this, it's made me find the time to book a CPR course and learn the basics for myself."
"I hope this award encourages others to follow in suit and pick up the basics they require to assist in saving an individuals life, if the need arises."
Following the event at the Subway in Summerside, PE, Jodi received a letter entitled "Our hero" with a bouquet of flowers from the man who had been on the receiving end of Jodi's heroism. The letter read:
"Where do I begin. A good deed should never go unnoticed, and this certainly hasn't. You saved my life. There is no other way to explain it. You're my angel and saving grace. 
My kids, my wife and I would like to thank you from the bottom of our hearts for all your efforts in contributing to saving my life. I had a major heart attack and without your CPR I would of died.
Thank you so much for giving me another chance to father my 3 beautiful kids ( with another one on the way) and give my wife all she deserves and more. You're an amazing young lady and we will never forget you."
To nominate someone extraordinary in your life, fill out our nominations form: