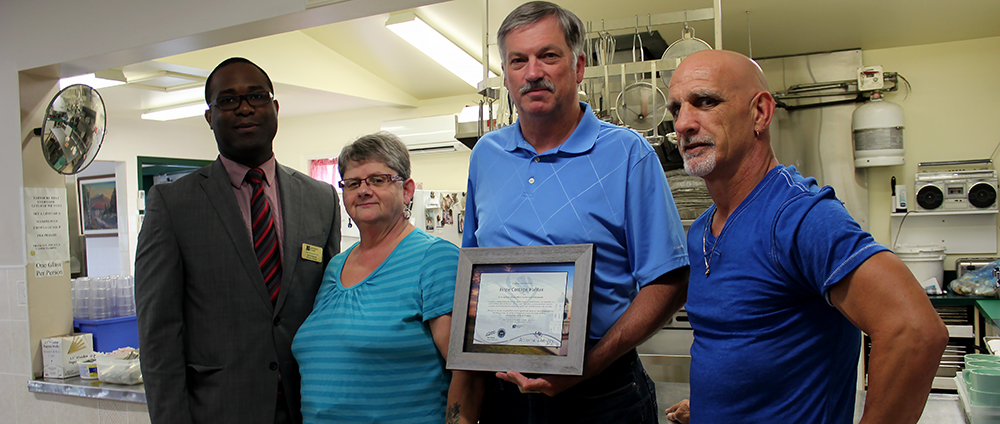 The Haliwards 2015 presented by Investors Group Halifax, is a project designed to recognize incredible people from across Nova Scotia.  The project has been running annually since 2010 and is part of the core of the Atlantic Award Group. An award presented as part of this project is referred to as a 'Haliward'.
Hope Cottage is a charitable organization whose mission is to provide meals to those who cannot afford to obtain these meals themselves. Since its inception Hope Cottage has grown into a Halifax institution feeding over 200 meals a day – Monday to Friday. Each day a brunch of soup and sandwich is served and a hot prepared meal in the evening.
Hope Cottage continues to be self sufficient with all revenues coming from unsolicited donations from individuals, community groups and organizations. No Gov't funds are received by Hope Cottage. The annual operating budget is approx $300,000. Although there are 3 full time staff members, Hope Cottage relies on the assistance of numerous volunteers to help prepare and serve the meals.
Hope Cottage was established in 1971 by Fr. Joe Mills who at the time was a pastor of St Patricks. Working at the church, he was very aware of the growing numbers of homeless people who required food. At the time, there were no soup kitchen in Halifax that catered for those in need during the week.. Mills called a number of women asking them to prepare a meals. 34 people showed up on the first day.
Alex Maine, Project Director for the Atlantic Award Group said:
"It was a pleasure to visit Hope Cottage last week and see the work that Terry and his team are doing. With just 3 staff, it's pretty impressive what has been accomplished.  Thanks to a dedicated staff, volunteers and donors this establishment continues to serve those in need. "
In a statement to the Atlantic Award Group, presenting sponsor Investors Group said:
On Behalf of the Investors Group Halifax office, I would like to congratulate Hope Cottage on being one of this year's recipients of a Haliward. We are so honoured to be sponsors of an award that recognizes an organization that has such a profound impact on so many individuals in need providing them with the very basic of needs that so many of us take for granted.
You can learn more about Hope Cottage by visiting their website. http://www.hopecottage.ca/